Video Contest 2016 - Croatia
Author:

DanceStar

Date posted:

01.12.2015

Date Updated:

01.12.2015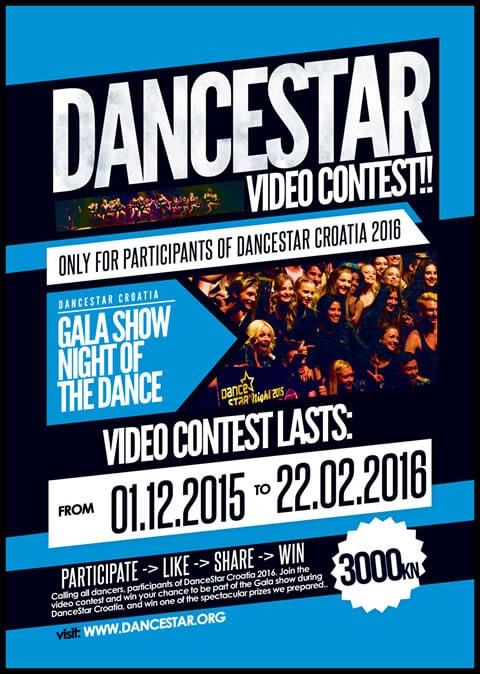 At the DanceStar Croatia 2016 we have organized a special additional activity for all participants. DanceStar challenges YOU to a #DanceStarGalaNight2016 video contest!
Submit your entry and earn your chance to perform your choreography at the spectacular DanceStar Gala Night on Saturday, the 5th of March 2016 at the Hypo Center, Zagreb where the top 3 choreographies will be awarded cash prizes and special awards!
How to participate:
Post a video of your performance on YouTube
Enter the DanceStar Video Contest and share your YouTube link through DanceStar Gala Video Contest App
Caption: Provide captions for your video that are shown on the application form: name of the dance group, name of all the dancers and name of the dance.
Eligibility:
Create and submit a video of your best choreography (dance schools can submit as many choreographies as they wish) – Submit through DanceStar Gala Video Contest App. Videos must be uploaded to YouTube and then shared through the DanceStar Gala Video Contest App
The video should not be longer than 5 minutes.
Only dancers which are registered and participating at the DanceStar Croatia Tournament can take part in the video contest.
Voting Systems and the Winners
All the performances will be seen and evaluated by the ESDU International Board of Judges. The Board of Judges is formed of international professional choreographers, producers, dancers and dance pedagogues. They will choose the best dance and the winners will be able to peform at the special Gala show – Night of the dance.
All fans can vote for their favorite dance during the video contest. The dance with the most "Likes" will get direct entry to the Gala night.
The video contest will last from the 1st of December, 2015 until the 22nd of February, 2016.
Winners will be announced on the 25th of February.
Take the challenge and see you at the DanceStar Gala Night on the 5th of March in Zagreb, Croatia!